Peoples Visa Debit Card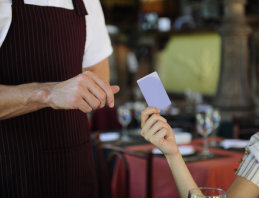 At most banks, a debit card is just a convenient piece of plastic. But for our account holders, a debit card is a convenient way to make purchases anywhere that displays the Visa® logo. Whether you're buying groceries, shopping for clothes, or enjoying a vacation, take the card that lets you pay without writing checks.
Sign up for one of our checking accounts, and use your debit card at thousands of ATMS everywhere. Record keeping is easier…it's faster and easier than writing checks…and it's accepted where checks aren't!
Summary

Worldwide acceptance – accepted online and in-store virtually everywhere
Available with any Peoples National Bank checking account
Use your debit card to qualify for rewards with free Cha-CHING Ca$h or Ca$h Back checking accounts
Safer than carrying cash, more convenient than checks
Eliminate the cost of purchasing checks
Make up to $5,000 in POS purchases daily
No finance charges or monthly service charges
Easy record keeping – transaction details appear on monthly account statements
24/7 access to funds via ATMs – nationwide surcharge-free withdrawals within the MoneyPass Network
Easily replaced if lost or stolen
Visa Purchase Alerts - sends you real-time1 text or email alerts when you pay2 with your Visa card
Click here to set up your Visa Purchase Alerts




*A $10 inactivity fee will be charged to your account if you do not use your Visa® debit card once every 90 days. (excludes Cha-CHING accounts).

1 Actual time to receive a transaction alert is dependent on wireless service and coverage within area.

2 A qualified transaction is any transaction routed through Visa.