Online Banking & Bill Pay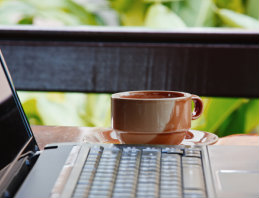 Unsure of your current balance, or whether or not a particular check has cleared? With free, 24/7 online banking, the answer to this and much more is only ever a few clicks away. Simply go online at any time that's convenient for you to see a summary of your accounts, make loan payments, reorder checks, pay bills, and much more.
Online banking is financial insight and flexibility in one. Sign up for this time-saving service today for the very affordable price of free.
Summary

Secure, time-saving, efficiency-driving service
Manage a wide range of banking tasks online at any time, including:
View daily balances
View summary of accounts
View statements and check images
Transfer funds and schedule recurring transfers*
Make stop payments
Make loan payments
Reorder checks
Set up message alerts – receive email messages when balances fall below certain amounts, when a schedule transfer goes through, and more
Download account activity to Quicken or Microsoft Money
Pay one-time or recurring bills with ease:**
Schedule payments in advance
Set up payment reminders
Ensure payments are received on time
Have all payee information in one convenient place
Create bill pay reports and categorize payments
Avoid paper clutter
More secure than paper billing




*Transfer capabilities may have to be set up by the bank.

**You must pay at least one bill per month to avoid an inactivity fee. (excludes Cha-CHING accounts)

Frequently Asked Questions

Enrollment Functionality

How should I format my account balance if it is over $999.99?

You must NOT enter a comma in the dollar amount for any balances over $999.99. For Example: $1500.00 would be the correct way to enter the last statement balance.

What happens if two customers pick the same user ID?

The User ID is unique. There cannot be duplicate User ID's for two customers. During the self-enroll process, if the user selects a User ID that already exists for that bank, the message "You entered a user ID that is not available for use. Please enter another user ID" will display.

General Product Functionality

When will an icon for Account Information and Activity appear on the Account Summary Screen?

The icons will appear for loans, with the exception of mortgage loans, and any deposit account (which includes: checking, savings, money market, NOW and certificate of deposit).

What is the cutoff time for an immediate transfer of funds?

Transfers may be made between your Peoples National Bank accounts. All transfer relationships need to be setup by the bank prior to transfers being available. Our guaranteed processing cutoff time for transfers is 7pm CT.

What is the cutoff time for stop payments?

Our guaranteed processing cutoff time for stop payments is 5pm CT. Stop payments made after 5pm CT may be effective the next processing day. Standard stop payment fees apply to all Stop Payment Requests. You can use the Stop Payment Service to place a stop payment request for any check written on the account. (You cannot use this method to stop payment on transactions you have requested through any of the Online Banking Services.)

Will a stop payment be categorized as a "Verbal" or as a "Written" stop payment?

When a stop payment request is made via Peoples Online, this request shall be considered to be a written request and shall be effective for 6 months.

What time of the day are scheduled transfers processed?

Scheduled transfers are processed at 5:00 am CT. Transfers entered after 5:00 am CT may be processed the next business day.

Will bill payment activity that I perform today reflect "real time" in my bill payment reporting function?

Bill payment activity performed today will show as "Scheduled" in bill payment reporting.

If I enroll for bill payment today, when will I be able to schedule and make bill payments?

Bill pay enrollment may take 24-72 hours. If you are unable to make payments immediately, please check after the enrollment timeframe has passed.

How does Online Bill Pay work?

Online Bill Pay is a service that allows you to set up bill payments to businesses and individuals. Once you enter a payment instruction in the system, the request is submitted to Bill Payment Services (8:00 p.m. CT, Monday through Friday). Your payment is sent electronically or by check and the funds are deducted from your funding account the day that you submit your payment. Future dated payments are deducted from your funding account on the "Send On" date of the payment. Before your payment is processed, we verify the balance of the funding account. If you don't have sufficient funds in that account on the date your payment is scheduled, your payment may be delayed or canceled.

Which accounts can I use to pay bills?

Checking accounts are the only type of accounts you can use to pay bills.

How do I change a funding account?

Click on the Customer Service Tab and choose the Customize Your Accounts option. Select the account(s) to be used for bill payment. If the funding account has pending payments, you should select a new funding account for the bill payments before changing the current funding account. You must have at least one account set up as the bill payment account at any given time.

How long is bill payment history kept?

Bill payment history is kept for a minimum of 90 days.

Can I set up a payee in another country?

Online bill payments may only be made to a United States payee (which includes Guam, Puerto Rico, U.S. Virgin Islands, and international U.S. military bases) in United States dollars.

Do I need to contact my payees to tell them I am using a bill payment service?

No. Your payees do not need to do anything different to process online bill payments. Online Bill Pay uses the ACH electronic network or a paper check with your payment information clearly indicated.

How do I add a payee (merchant/vendor)?

In the Make Payments Tab, type the payee name in the "Pay Someone New" field. Some payee addresses are pre-filled in our payee list. If the pre-filled address is used, verify that is matches your bill. If the new payee is not listed, manually enter the payee information.

How long does it take to setup a new payee in Online Bill Pay?

Once the new payee is entered, you can use the payee immediately.

How do I know if a payee will receive payments electronically or via paper check?

Refer to the calendar button on the "Make Payments" page to see when the payment should be delivered by. The "Delivery By" date for the Electronic payments is generally two business days after the "Send On" date. Check payments are generally delivered five business days after the "Send On" date. Once you have made the payment, the Payment Type (Electronic or Check) is listed on the Payment Confirmation Page.

Can I make multiple payments to the same payee on the same day?

Yes, you can make multiple payments to the same payee on the same day as long as the payment amounts are different. For your protection, the system will not pay duplicate items for the same payee on the same day.

How do I change a payee's name and address?

Click on the drop-down next to the Payee and choose view/change payee details. Click on the Change Information link, update the payee information, and click Save Changes. Some payee addresses cannot be updated because Bill Payment Services has a preferred address on file. If the information cannot be changed, delete the payee and add it back again to update the information in your records.

How do I delete a payee?

Click on the drop-down next to the Payee and choose view/change payee details. Click on the Delete link and confirm that you do want to delete this payee.

What does the payee receive with my payment?

Your payee will receive either an ACH electronic payment or a paper check. In either case, the payment is appended with the information that you have provided, such as your name and account number with the payee, so the payee can properly credit your payment.

When should I set up my payments to make sure they are paid on time?

Minimum payment "lead times" will be provided in the Calendar on the Make Payments tab based on whether the payee accepts electronic payments or paper check payments. Payments to electronic payees should be scheduled a minimum of 2 business days before the payment due date. Paper check payments should be scheduled a minimum of 5 business days before the payment due date.

Are there minimum and maximum payment amounts?

The minimum payment amount is $1.00. The maximum amount per single payment is $24,999.99.

Are there any payments that I cannot make using Online Bill Pay?

Payments cannot be made in foreign currency or to international payees. For payments to U. S. government agencies, Online Bill Pay has limited ability to research any issues that may arise due to the government's strict adherence to the Consumer Privacy Act. Online Bill Pay will not be responsible for any late fees or penalties that may be incurred by these types of payments.

How far in advance can I schedule payments?

You may schedule a one-time future payment up to 364 days in advance.

How late in the day can I enter, edit, or delete a payment?

Cut off time is 8:00 p.m. CT. Payments entered after this cutoff will be processed on the next business day.

How often does the payment processor make payments?

Payments are processed Monday through Friday excluding holidays.

Can I make changes to an already scheduled payment?

If the payment is still pending, changes can be made. However, once the payment has been transmitted, you can no longer make changes to or delete payments.

When can I cancel a payment?

You can cancel or modify your payment online at any time before the cutoff time of 8:00 p.m. CT on the payment transaction date.

What date do I put in the SEND ON field?

For a future dated payment this should be the date that you want your payment to be transmitted. This is the date the payment is extracted for processing. Refer to the "Deliver By" date on the calendar to determine when the payee should receive the payment.

Can I place a stop payment on a bill payment that I have already set up?

You yourself cannot place a stop payment on a bill payment. If the payment has been processed and is a paper check that has not yet cleared, you may contact the Customer Support line at 888-351-3276 and place a stop payment on it.

What if my payee says that they have not received my payment?

Contact Customer Support at 888-351-3276 and your payment will be researched.

Can I get a copy of a cancelled check?

Check copies can be viewed in your bill payment reports. If a check was issued for the payment and it has cleared, a "View Check" link will be available.