Remote Deposit Capture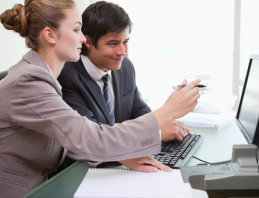 Multiple check deposits doesn't have to mean multiple trips to the bank. With remote deposit capture, it's like having your own personal 24-hour bank teller right in your office. Simply scan any number of checks on a bank-provided scanner, then send them on their way for processing.
Experience extended cutoff times, accelerated cash flow, and fewer errors in accounting. Remote Deposit Capture manages the seemingly impossible: cutting down on your time and resources while boosting your efficiency.
Summary

Available to Peoples National Bank business customers
Deposit any number of checks remotely, without leaving your office
Utilizes a bank-provided scanner and internet access
Simply scan checks and send them on their way for processing
Easily handle checks from multiple offices or locations
Realize funds quicker and accelerate cash flow
Extended cut off times; make deposits after regular business hours
Free up resources; reduce labor costs
Save time on document preparation
Save on transportation costs
Reduce risk of check fraud by eliminating the circulation of paper checks
Fewer errors in accounting
Securely encrypted software