Business Express Online Banking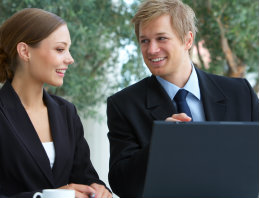 Managing a business can mean early mornings and late nights…and running to a branch isn't always an option. But with our online banking service, you can manage your business checking and savings accounts from anywhere.
Check balances, monitor transactions, transfer funds, complete wire transfers, pay bills and much more — even set up multi-user capabilities to manage all the tasks at hand. Business Express Online Banking is all online and it's always open.
Summary

Specifically designed to accommodate the needs of small to mid-sized business customers
Secure, time-saving, efficiency-driving service
Manage a wide range of business banking online at any time, including:
View daily balances
View check images/examine check details
Receive and view online statements
Transfer funds and complete wire transfers
Verify deposits and transfers
ACH origination
Receive details on posted transactions
Submit stop payment requests
Export information to our accounting package for quick reconciliation
Pay one-time or recurring bills with ease:
Schedule payments in advance
Set up payment reminders
Ensure payments are received on time
Have all payee information in one convenient place
Avoid paper clutter
More secure than paper billing
Print or download to popular financial management software
Easy, multi-user capabilities, providing greater control over cash flow management
If necessary, free support available via email
No software to purchase or install

Learn more

Get Started

Download and print out the Enrollment form along with the Repetitive Wire Form, if needed for your business requirements.
Review Peoples National Bank's Online Service Agreement/Disclosure Booklet to understand all your rights and responsibilities regarding Internet Banking with Peoples National Bank.
Then, call 618.241.6550 and ask to speak with a commercial banker regarding the setup of your new Business Express services. We will discuss any questions you may have regarding fees or the setup process at this time or in a face-to-face meeting, whichever you prefer.

Fax completed forms to 618.241.6646 or mail to:

Peoples National Bank

attn: Business Express

P. O. Box 908

Mt. Vernon, IL 62864

Technical Requirements

Internet access using the latest release of Microsoft Internet Explorer or Netscape Navigator 128 bit SSL for browser