Credit Cards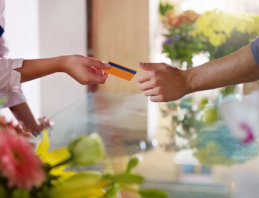 Don't be confined by your currency. Enjoy worldwide purchasing power with a Visa® Simply Rewards™ credit card from Peoples National Bank. Not only are you able to make purchases online and in-store virtually anywhere around the world, you also get rewarded for doing so.
Earn more rewards for everyday purchases, account credits, gift cards, merchandise, travel, event tickets and more! Plus, with no annual fee and competitively low rates, credit cards are an easy-to-use alternative to procuring a personal loan or withdrawing from savings.
Summary

Your Life Your Choice Simply Rewards™ Visa® Credit Card

Earn more rewards for all your everyday purchases*
We make it easy to redeem
Access your account to see how many points you've earned through online banking or your monthly statement at www.cardcenterdirect.com. Redeem your reward points for Account Credits, Gift Cards, Travel, Entertainment and more.*
Fraud Protection
Visa's Zero Liability Policy means you won't be held responsible for any unauthorized charges made with your card or account information.**
Other Visa Benefits
Including auto rental coverage, emergency cash, travel/emergency assistance, warranty manager and more.***
Online Credit Card Control
View transactions, pay bills and track expenses. Includes eStatements with 18 months of history. Learn more about our competitive rates and fees.

Account Login

View your credit card account details, summary and statement online here.





Cardholder Self-Service Contact

Online Account Access – www.cardcenterdirect.com

Rewards Points Redemption – www.cardcenterdirect.com

Customer Service – 1.800.821.5184




Cards issued by UMB Bank, n.a.

*Cardholders earn 3 points per dollar on purchases with MCC codes: 5411 (Grocery Stores), 5541 or 5542 (Gas), 5310 (Discount Stores), 5812 (Restaurants) and 5814 (Fast Food). Cardholders earn 1 point per dollar on all other purchases. See Simply Rewards Rules for details.

**Visa's Zero Liability Policy covers U.S. issued cards only and does not apply to certain commercial card transactions. You must notify your financial institution immediately of any unauthorized use. For specific restrictions, limitations and other details, please consult your issuer.

***See the Rewards Rules and Guide to Benefits that accompany your card for details. Certain terms and conditions may apply.